APTOS—Jon Scoville has always been eager to open his mind to new music.
Growing up as a minister's son in Connecticut, Scoville learned the craft by singing in church choirs and around his family's home piano. But in secret he was also listening to genres like jazz and early rock 'n roll. He learned to play the guitar at age 16, immersing himself in folk songs and country and western. And after moving to California, Scoville learned to play bass and experimented with funk, the music of northern India, Korea, Indonesia and more.
"The more [music] I heard, the more of it I liked," he said. "Honestly, as long as something is well-played, I don't care what kind it is."
On Jan. 18 and 19 Tandy Beal & Company will present "Scoville Units," a special multi-arts performance in celebration of Scoville, who is the company's co-founder and longtime musical director. The show will feature 32 dancers and musicians and two filmmakers, all paying tribute to Scoville's wide range of work, at the Crocker Theater in Aptos.
For Tandy Beal, who is Scoville's partner both in work and in life, the show is long overdue.
"Jon is one of the most prolific, focused artists I've ever known," she said. "But he is quiet about himself. He doesn't push himself or his name onto others. People usually don't know him unless they've worked with him directly."
That is the reason, said Beal, that she and her company are putting together "Scoville Units" (named after the scale of spiciness for peppers).
"He is a true unsung hero," Beal said. "We need to celebrate him."
Scoville admitted he was initially unsure about the show, resisting the idea of it focusing on him.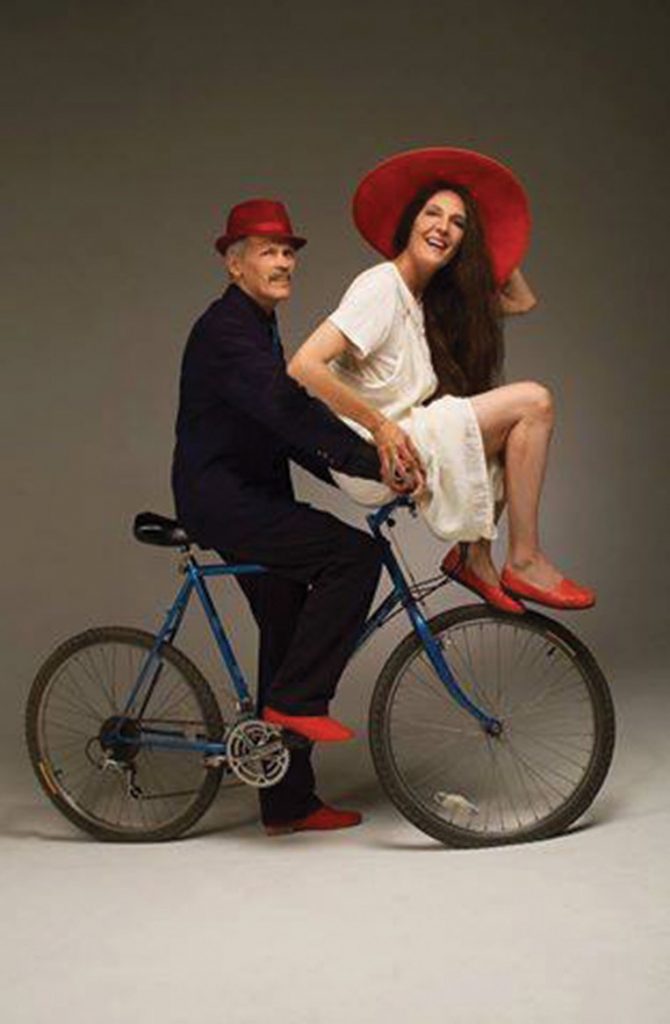 "I thought, Tandy is the well-known one, the public knows her," he said. "But she kept pushing for two years… and I don't know what came over me, but I finally agreed."
Scoville's work has not only inspired dances for Tandy Beal & Company, but also international choreographers. It has been used all over the world on concert stages, inside circus tents and art galleries, on the radio, for videos, commercials and more.
Beal and her group sifted through thousands of Scoville's works, meanwhile contacting old friends and artistic collaborators who might want to be involved with the show.
One such performer was Lorin Hansen, Scoville's former student who helped him start a samba group in Salt Lake City—which she now leads. Hansen has won numerous awards in dance, including being named the best Brazilian dancer in the U.S. She will fly to California from Brazil for the show.
"Lorin told me: 'We owe so much to Jon, there is no way we'll miss this,'" Beal said.
Other performers will include local musician Ivan Rosenblum, who will play a suite of Scoville's piano works; Jeff Gallagher, who will perform clarinet pieces; San Jose's elite hip-hop dance choreographer Chris Banaga; competitive ballroom dancers Jeremy Pilling and Marinda James-Heskett and more.
Watsonville-based filmmaker Denise Gallant and Guggenheim winner Ellen Bromberg will also be involved, screening films that go along with Scoville's pieces.
"It's going to be a fabulous show," Beal said. "I think both art aficionados and those who are new to it will enjoy themselves. Whatever kind of music, dance, art you are into… there is something for everyone. It's like an entire festival of the arts in one show."
"Scoville Units," will be held Jan. 18 at 7:30 p.m. and Jan 19 at 2 p.m. at Cabrillo College's Crocker Theater, 6500 Soquel Drive in Aptos. Tickets are $40 for general admission, $35 for seniors and $25 for students. Discount tickets for groups of 10 or more are available by phone.
"My approach is to always find something to make your ears wider," Scoville said. "Music is the most convenient and beautiful way of doing that."
•••
For information on "Scoville Units" and visit tandybeal.com. To order tickets visit cabrillovapa.com or call 479-6154.