APTOS—The mission couldn't have been any clearer for Aptos senior Caden Prichard who was set to battle Salinas for just the second time in his career.
The ace running back helped lift the Mariners past the Cowboys, 44-41, in a thriller that went down to the wire in front of a packed house on Trevin Dilfer Memorial Field at Aptos High on Oct. 14.
Prichard and his teammates stormed the sideline following one final snap in victory formation, pumping their fist in the air and embracing each other after beating their league rival for the first time in six years.
"I'm feeling great. We came into this game definitely not nervous, anxious for this game," he said. "We've been talking about this game for a long time. I'm glad we came out and played the way we did, super happy with the result. That was a big win."
It was a tremendous win by the Mariners, however, the players knew better than to give Aptos coach Randy Blankenship a water cooler bath after the game.
He made sure of it because there's still some unfinished business, Blankenship said.
"I'm going to enjoy this weekend as much as they do," he said. "Monday, we're rolling up our sleeves and get back to work."
With the win, Aptos improves to 6-1 and 3-0 in PCAL Gabilan Division play.
Blankenship said he's proud of how hard they played against the No. 3 ranked team in the Central Coast Section, according to the MaxPreps website.
The Mariners were ranked No. 13 going into Friday's game.
The longtime coach was also impressed how far the players have come since the start of the year, including after their lone loss of the season against Campolindo where ball control was the issue for them.
The Mariners were able to control the ball for most of the evening against a Cowboys team that was averaging 45 points per game this season.
"I told them I envy them because I didn't get to play in a game of this caliber in high school, so I think they all enjoyed it," Blankenship said.
It's the first time Aptos beat Salinas since a non-league 21-14 win in 2016 and it's the team's first victory over its rival in league play.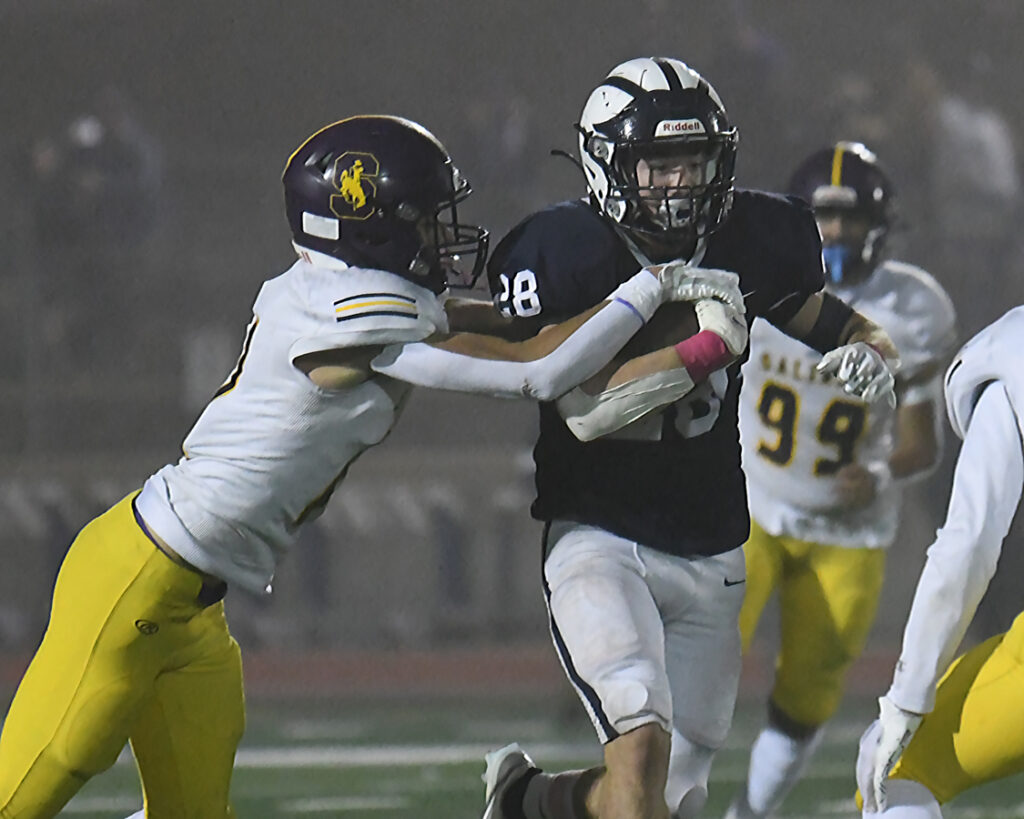 Salinas won the first four league meetings since both teams joined the PCAL Gabilan Division in 2017. Both teams did not meet during the abbreviated 2021 spring season.
Prichard made sure the Mariners broke that streak, finishing with a game-high 195 yards rushing on 17 carries for an offense that tallied 374 yards rushing.
He also had a key 85-yard kickoff return in the second half that helped them maintain the momentum needed en route for the win.
"The one thing I know is sometimes he doesn't do the things right that I want, but come big games he's always stepped up," Blankenship said. "He enjoys the spotlight but we can't do it without the [offensive] linemen."
Blankenship also praised junior running back Lawrence Ingram IV for crushing Salinas' defensive linemen to open up running lanes for Prichard and senior fullback Dante Aranda.
Aranda finished with 91 yards rushing on 16 carries and a pair of touchdowns in the first half.
Aptos junior quarterback Matt Hood finished with 29 yards rushing on eight carries and a 1-yard score that helped the Mariners keep a 21-20 lead going into halftime.
Salinas senior quarterback Adam Shaffer recorded 80 yards rushing on 16 carries and two touchdowns, yet, Blankenship thought the defense managed to keep him from scrambling around the field.
"[Shaffer's] a hardnose player, and the receivers are dangerous," Blankenship said.
Shaffer put on quite the performance with his arm, completing 20-of-34 pass attempts for 307 yards and a pair of touchdowns.
"He's that guy you count on every down the whole game," Salinas coach Steve Zenk said. "4th and 2 [yards to go], he throws an interception. The next play he's ready to play and he throws a first down."
Zenk said if there's going to be any finger pointing for the loss it should be at him. He added that the Cowboys will regroup and he knows things will improve in the near future.
"That was a great job by [Aptos] tonight, a great team tonight and hats off to them, great job," he said.
Shaffer was responsible for two interceptions in the second half, a pair of critical turnovers that Zenk said they couldn't afford at that moment.
Zenk believed they were neck-and-neck the whole game, yet, they didn't get the breaks to go their way, including an Aptos fumble that landed out of bounds.
"[Ball] bounces out of bounds instead of into our hand, all those things that happen when you play hard and I think they outplayed us tonight," he said.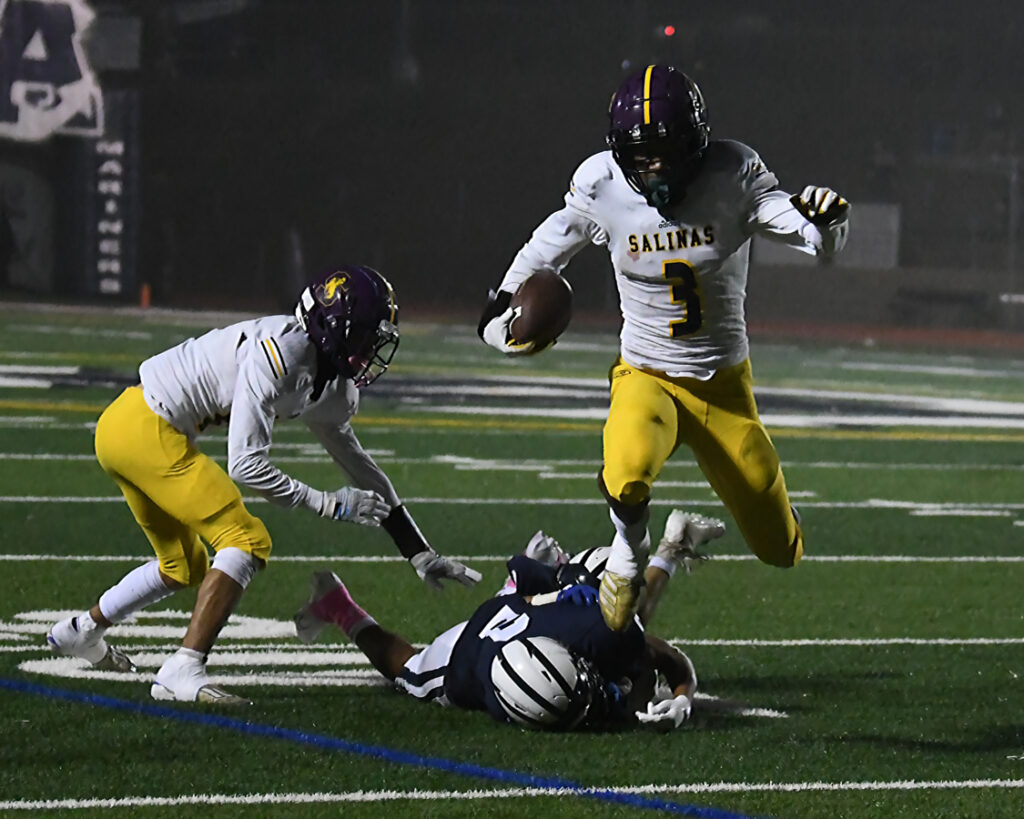 The Mariners scored on their first three offensive possessions, however, the ball also didn't bounce their way on a couple of occasions.
Senior kicker Nathaniel Dow missed a 25-yard field goal just as time expired in the second quarter. Then two plays into the Mariners' opening drive of the second half, Prichard lost the ball and Salinas recovered the fumble.
Prichard made up for his mistake on the defensive side after he stepped in front of a pass attempt by Shaffer for the interception.
The Mariners capitalized by orchestrating a 12-play, 65 yard drive that was capped off by Prichard's first touchdown of the evening that made it 27-20 after the missed extra point attempt.
Salinas responded right back with a 44-yard touchdown pass from Shaffer to senior receiver Emmerson Cortez-Menjivar.
Cortez-Menjivar, who is committed to play at NCAA Division I University of Idaho, finished with 125 yards on five receptions and the one score.
Shaffer's second touchdown pass of the night tied the game at 27-all and the Cowboys were attempting to steal the momentum.
That was until Prichard returned the ensuing kick off to Salinas' 9-yard line. Two plays later he was in the end zone for his second touchdown of the night to extend Aptos' lead back to seven.
"That felt great, our kickoff return is a hell of a unit," he said. "I think we came out hard. I think we hit them in the mouth, I don't think they expected that."
Zenk said Prichard's kick off return was probably the big difference in the game, especially after the Cowboys had just found a groove.
"We started to get some rhythm, some movement and then all of a sudden a big return. It kind of took the wind out," he said.
Senior defensive back Blake Byers dished out another blow for Aptos after his big interception that led to a field goal.
"They have some great receivers on their team and for our defensive backs to step it up today, we got two interceptions and a bunch of pass breakups, it was awesome," he said.
Byers said that Blankenship had them working and studying Salinas' plays on film since the Mariners took on North Salinas on Sept. 15.
"We've been prepping for this game for a while. It feels good to finally be able to go out on the field and get it all done," he said.
Dow had his moment of redemption after he knocked in a 25-yard field goal that put Aptos ahead, 37-27, with 7:32 left in the game.
The special teams unit came through again after a punt put Salinas on its own 2-yard line.
A stifling Mariners defense forced Shaffer to throw four-straight incomplete passes and the Cowboys turned the ball over on downs.
Aptos took advantage of the field position and Prichard scored his third touchdown of the night that gave them a 44-34 lead with 1:36 left in the game.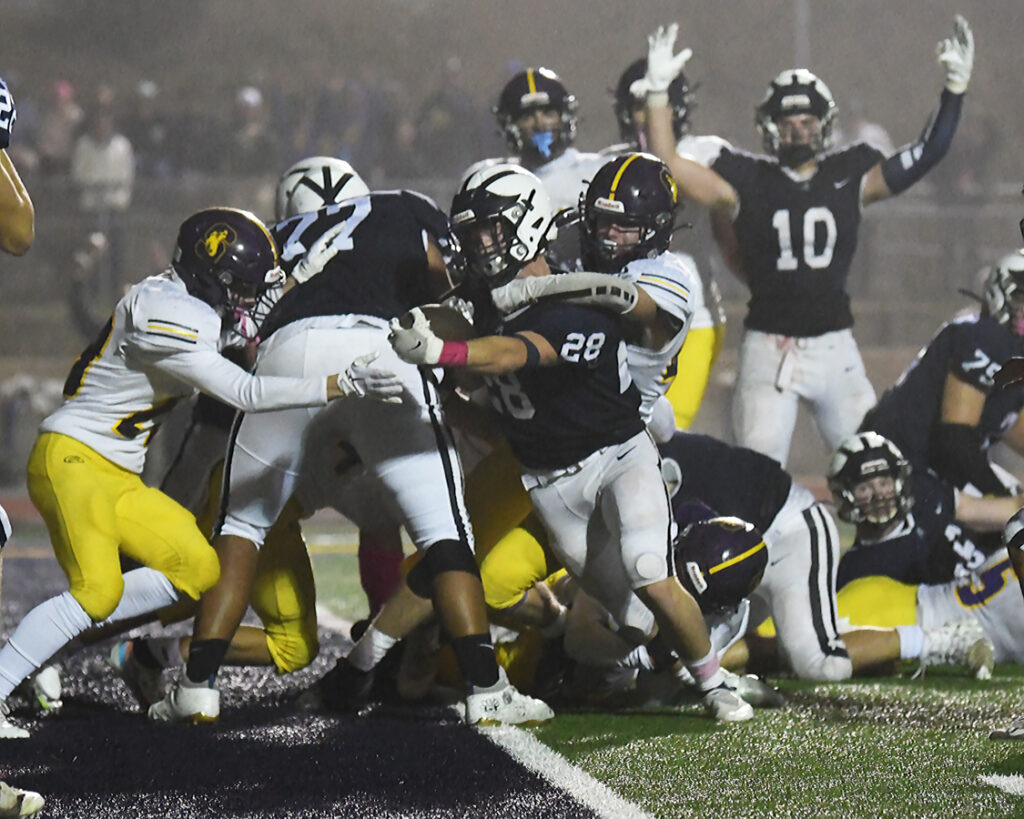 Strange enough, it was still enough time for the Cowboys to muster up a late rally to tie or possibly take the lead.
They came close starting with Shaffer's third touchdown pass of the evening. He connected with receiver Nyziah Hunter on a quick screen that turned into a 31-yard sprint to the end zone, making it 44-41.
Hunter, who next year will play at Cal, finished with six receptions and 110 yards receiving along with a pair of scores.
Salinas' chances of an undefeated season came crumbling down when the onside kick attempt was recovered by Aptos.
"This is a big win, it counts for a lot," Prichard said. "It is just a win, it's one game. It's not going to win us league and it's not going to decide our whole season but I think it's a big win."
Blankenship said it was an entire team effort and the players did their jobs.
"We kept talking about just do your job to the best ability," he said. "And it came from what they did at practice."
Next up, the Mariners will take on Palma (6-1, 3-0) which is also aiming to stay unbeaten in the PCAL Gabilan Division standings with just three games remaining in league play.
The Chieftains are coming off a bye week and have won six straight since a 29-7 non-league loss to Mitty High on Aug. 26.
Blankenship said one of his concerns is there could be a big drop off after an emotional win such as Friday night's victory over Salinas.
"We can't allow to have a drop off," he said. "That's my job to get our kids ready to play on Friday."
Week 8 football scoreboard
Friday
King City 33, North Monterey County 26
Saturday
St. Francis 48, Rancho San Juan 26
Stevenson 38, Pajaro Valley 0