SANTA CRUZ—Several uniformed Santa Cruz police officers were on Water Street Friday morning, along with a group of city workers, tasked with dismantling and moving a homeless encampment that has grown along the north wall of the downtown post office, and in other places throughout the city.
About 15 tents remained – most of them strewn with tarps – as their owners worked to pack up.
Many of the homeless people are moving to Lot 17, located near the Kaiser Permanente Arena near Front and Laurel streets. The lot has wooden pallets spaced six feet apart to comply with social distancing guidelines suggested by public health officials to combat the spread of COVID-19.
The City of Santa Cruz set up the camp as part of its wide-reaching efforts to break up the high-density homeless camps and slow the spread of the virus among that population.
SCPD Chief Andy Mills called the move a "preventative move."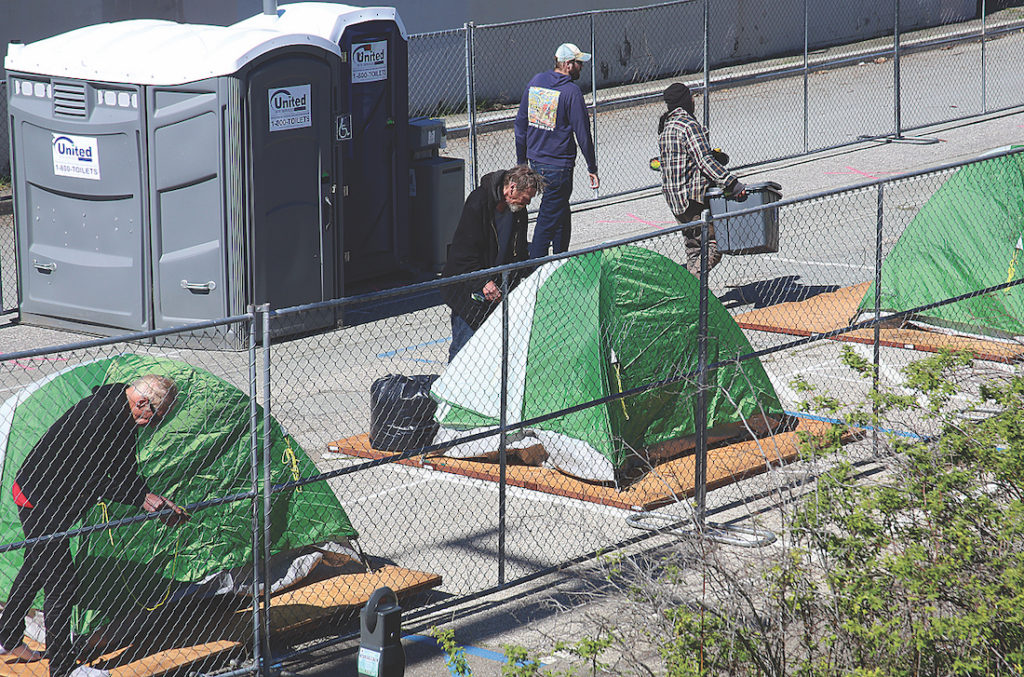 "We're providing people with a place to go," Mills said. "Living in this environment is not healthy, and the city has decided it has to stop."
Cooper DeAngelo, who was among the group of homeless people being moved, said she preferred to continue living with her friends.
"We have strength in numbers," she said. "The worst thing you can do is isolate."
The City of Santa Cruz has also set up "hygiene stations" throughout the city for the homeless population. This includes nine hand-washing stations and six additional port-a-potties, in addition to the facilities that already existed.