APTOS — The Aptos High girls' volleyball team was two points away from having at least a share of this year's Santa Cruz Coast Athletic League championship.
But the Mariners came up short in a five-set loss to Harbor High on Thursday. The scores were 25-14, 16-25, 25-20, 20-25, 15-13.
Aptos senior Alana Patyk-Randa had a team-high 36 assists, two aces, 10 digs and four blocks.
"We definitely had the energy that we anticipated," Patyk-Randa said. "It was an all-or-nothing kind of thing."
The energy seemed to be fully drained near the end as the Mariners allowed the Pirates to score three straight points en route to victory.
"We respect (Harbor) for playing hard and giving us a good competition," she said.
Junior Peyton Dueck finished with a game-high 18 kills, two aces, nine digs and two blocks, while Natalia Ackerman had 10 kills, three digs and two blocks for the Mariners.
Aptos coach Lake Merchen said looking at the bigger picture, there wasn't much he could change because the match was so even until the end.
"My message to the players was two points is not going to define us," Merchen said. "It doesn't mean we're a worse team than them. And if we would've won by two, that doesn't mean we'll beat them the next time for sure."
The Pirates took the first set from the Mariners with ease but Aptos took command of the second to tie the match at 1-all.
The final three sets were much tighter, with both teams going back and forth with lead changes.
In the end it was Harbor that made the least amount of mistakes, taking the match and league title back home to Santa Cruz.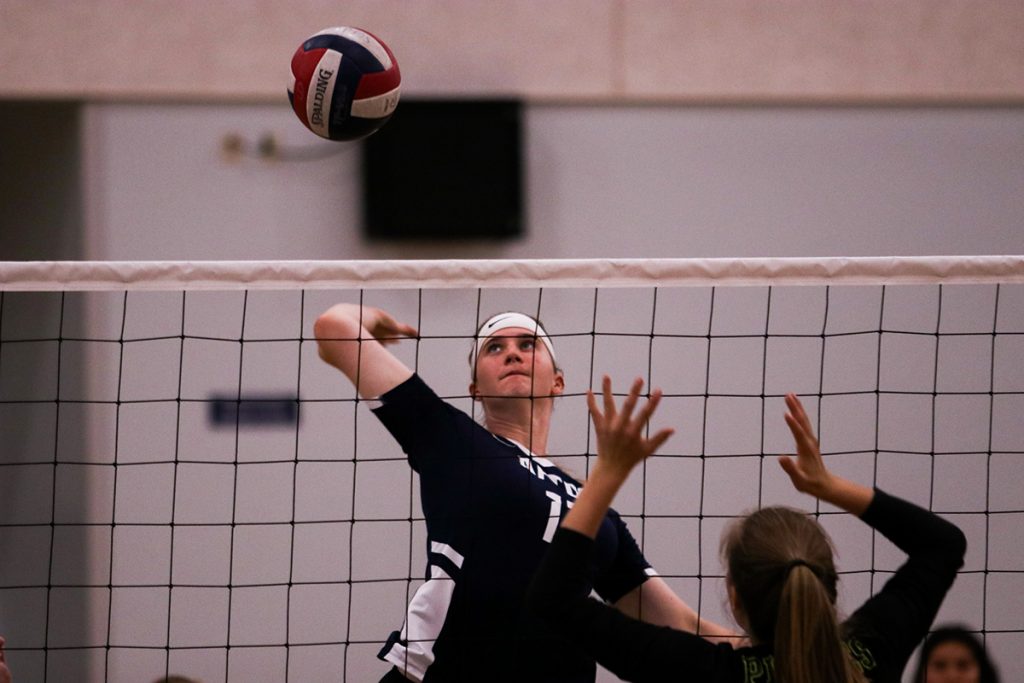 Harbor senior Carly Ditz, who had a game-high 38 assists, said she was still in shock and awe after capturing the league title.
"We all came into this game with no expectations," Ditz said. "We wanted it bad and we worked really hard, practicing six days a week. We came in here ready to win."
Ditz said they felt overlooked since the beginning of the season as all the newspaper headlines had already picked Soquel as this year's league champ.
"We didn't take that as offense," Ditz said. "We took at as wanting to be more competitive and wanting to win and show people that we may have lost some great players from last year but we're still a great team together."
Senior Emily Patz had a team-high 15 kills, sophomore Olive Hess chipped in 10 kills and junior Ayana Hunt added 11 kills for Harbor.
Senior Emily Melvin had a team-high 16 digs for the Pirates, who will have the No. 1 seed going into next week's league tournament.
"We're relieved but we're tired," said Harbor coach Matt Shutz. "What I'm most proud about is these kids figured out a way how to win when it mattered most."
Shutz said players are dealing with injuries and others were still feeling a little under the weather. But the Pirates have not lost a league game since falling to Soquel High on Sept. 19, closing out the regular season with nine straight league wins.
It's the second straight season Aptos has not won or shared the regular season league title. Prior to that, they had won five straight league titles and eight in the past 10 seasons.
The Mariners season is not over. They earned the No. 3 seed in the SCCAL Tournament, which begins Monday.
They will host No. 6 Santa Cruz High (8-9, 3-9) for one final home game with first serve set for 6:30 p.m.
Merchen said the loss on Thursday made the road tougher next week.
If the Mariners win they might end up playing Soquel in the semifinals and then, hopefully, a rematch with the Pirates in the finals.
"I think Soquel, Harbor and us are so even on every single night, it's just going to depend on who's going to show up and do those little things in moments that you think don't really matter," Merchen said.
The top-seeded Pirates and the Knights, who hold the No. 2 spot, will have a bye in the first round. Mount Madonna School earned the No. 4 seed and it will host No. 5 Scotts Valley High in the opener also on Monday at the same time.