SANTA CRUZ COUNTY—The CZU August Lightning Complex fires have so far destroyed more than 500 homes and forced 77,000 people to evacuate from their community. Those people have flooded evacuation centers throughout the county.
That, coupled with the Covid-19 pandemic that has upended the economy and caused thousands to lose their jobs, has posed a particular challenge for the organizations tasked with keeping people on their feet in times of crisis.
This includes Second Harvest Food Bank (SHFB) and Community Bridges, both of which are headquartered in Watsonville.
SHFB normally provides parcels of food for hungry people to be cooked at home, but has had to shift that focus to help displaced people that do not have access to a kitchen.
The food bank therefore is trying to provide readily consumable, "grab-and-go" food such as peanut butter, crackers and tuna with pop-tops, said SHFB Chief Development Officer Suzanne Willis.
"The nature of food need has changed rapidly with these rapid evacuations," Willis said. "Our community is so generous, and so many people have been displaced and it's one more stressor on people who have already been stressed. This is one more thing that nobody could really have been prepared for."
To make matters worse, the U.S. National Guard members that had been assigned to help meet the food bank's increased activity during the Covid-19 pandemic have been reassigned to help with fire suppression efforts, Willis said. In addition, many citizen volunteers wary of working during the pandemic—and in the smoky conditions—have stopped helping during the busy Friday food distribution.
That trouble was eased somewhat by a team of last-minute volunteers mobilized by Twin Lakes Church, Willis said.
"We had amazing support from the people from Twin Lakes," she said. "The community is willing to support us, and we really need that support at our Friday drive-thru distribution."
Still, the food bank is always looking for volunteers, Willis said.
"It's just a big challenge," she said.
It is still too early to tell how the evacuations will affect the food bank, Willis said, since six agencies located in the evacuated area that distribute food have temporarily closed. In fact, the numbers during the weekly distribution at the Santa Cruz County Fairgrounds on Friday were unchanged. But she pointed out that distribution took place alongside a village of evacuees.
Rebuilding process 
Community Bridges CEO Ray Cancino said that the organization is continuing its services during the crises, although Covid-19 has made employees more fearful of working around large numbers of people.
Now, with the fire compounding the crisis caused by Covid-19, the organization is looking to bolster its team of caseworkers who will be tasked with helping the displaced residents get back on their feet.
"This is a huge incident response," Cancino said. "70,000 people have been displaced in our community, many of which not only have been evacuated, but then we're not even talking about all the thousands of people that lost their jobs or have not been able to work since being evacuated.
"There is a huge economic impact that this is going to have, that we don't have the resources to address," he said.
While Community Bridges has been working with the Community Foundation of Santa Cruz County to get some financial help for the recovery effort, residents were already falling behind on their rent due to the pandemic, Cancino said.
"This is gonna be just an additional pressure," he said. "We're just trying to do the best we can and get the resources that we need to be able to address all the community needs that we're seeing across the county."
The organization also runs Mountain Community Resources in Felton, which Cancino describes as "the heart of all our services up in the valley and the mountains."
The center is normally used to help low-income residents of the San Lorenzo Valley and the mountain communities with such services as food and family nutrition and case management. But because it lies in an evacuated area, it is only being used as a post for a local Community Emergency Response Team, and by a group of ham radio operators.
The center also provides supplies such as tents and sleeping bags for homeless people, a resource that is now being diverted to evacuees, Cancino said.
Community Bridges is now working with the County of Santa Cruz to be able to provide large donations of supplies.
Many clients, Cancino said, are asking for help filling out forms to receive financial help from the Federal Emergency Management Agency, a number he said will continue to increase.
"We've been working to address the needs as they come up, and as people experiencing this crisis are informing us about what they need," he said.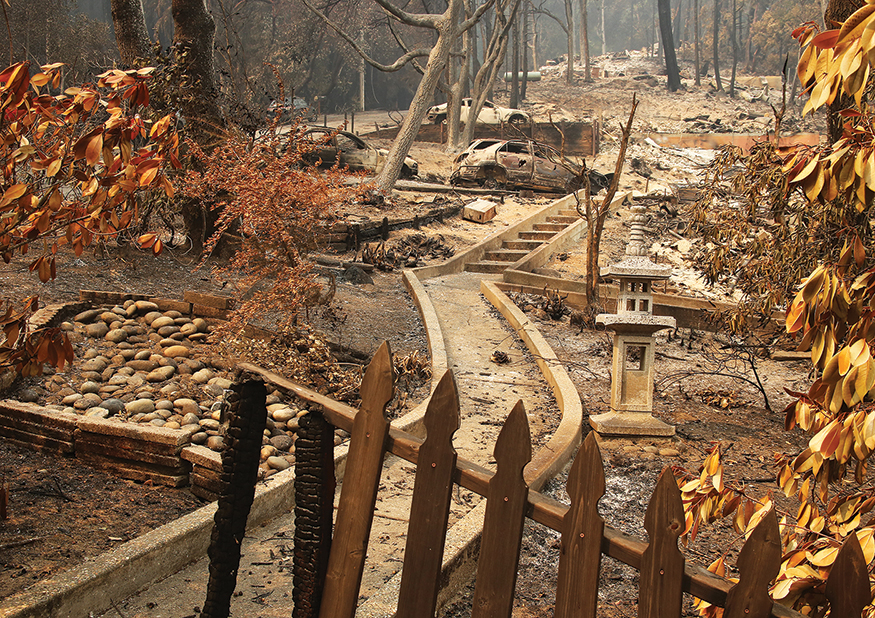 Like many firefighters who are battling the CZU fire, Cancino predicts that Scotts Valley and other evacuation sites will take a long time to repopulate. Until then, he said, many people who were already dealing with economic troubles will need ongoing help.
"We know that once things open up, the most vulnerable people we're going to have to address are the people living up in the mountains of San Lorenzo Valley, Felton, Boulder Creek, Ben Lomond," he said. "It was already a very rural, marginalized part of the county with limited resources, and the community is going to look to us to help them rebuild."
Cancino tipped his hat to Community Bridges employees, and to the county residents at large, for the overarching response to the dual crises.
"It's been beautiful to see the community come together," he said. "I've had our staff working basically 10-12 hours a day, seven days a week since the start of the incident, trying to meet the needs of the most impacted."
Feeding community
Second Harvest Food Bank hosts a Friday drive-thru through food distribution runs from 9am–1pm, alternating between the Santa Cruz County Fair Grounds in Watsonville and the Santa Cruz Beach Boardwalk in Santa Cruz.
Anyone who has been evacuated, or is hosting family or friends who have been evacuated, can get food assistance at the distributions.
Residents of Santa Cruz County with an ID or proof of residency are eligible. A representative of each family must attend.
Distributions schedule:
Aug. 28: Santa Cruz Beach Boardwalk
Sept. 4: Santa Cruz County Fairgrounds
Sept. 11: Santa Cruz Beach Boardwalk
Sept. 18: Santa Cruz County Fairgrounds
Sept. 25: Santa Cruz Beach Boardwalk
To Make a donation to Second Harvest Food Bank, or to volunteer, visit thefoodbank.org/volunteer, call 662-0991 or email [email protected]
To make a donation to Community Bridges, visit communitybridges.org or call 688-8840.