GILROY—The Cabrillo College football team took a short road trip to Gilroy High School on Saturday but freshman Christian Rodriguez felt right at home.
The former Mustangs standout recorded an interception return for a touchdown to help the Seahawks fly away with a convincing 38-10 win against Gavilan College in Golden Coast Conference action.
"I felt comfortable in my home environment," Rodriguez said. "I'm not used to being on the visiting side of everything but it definitely felt good and we needed that (win)."
The pick-6 was Rodriguez's fourth interception and second defensive touchdown this season—both team-highs.
Cabrillo (6-1, 2-1) is currently fourth in the Golden Coast behind Hartnell College (5-2, 3-1), Reedley College (6-1, 3-0) and conference leader Monterey Peninsula College (7-0, 3-0).
The defense has four touchdowns this season, which is tied for the best in the state alongside five other teams.
"Defense wins championships," Rodriguez said. "If we keep going on the same road that we're going, we're going to be in a bowl game and I'm trying to get that third ring on my finger."
One of those rings is a Central Coast Section Division V championship he won at Gilroy High in 2017.
Rodriguez jumped started things early in the first quarter with his 19-yard interception return for a touchdown.
"I know (Rodriguez) was really excited about coming to his home stadium," said Cabrillo coach Darren Arbet. "That interception he got was special."
The defense is giving up just 12.9 points per game, which is fifth-best in the state.
The Seahawks held the Rams to a third down efficiency of just nine percent (1-of-9). Four of their eight first downs came on penalties committed by Cabrillo.
Cabrillo contained the Rams to negative-48 rushing yards on 21 carries. They've allowed just 27.4 rushing yards per game and are ranked No. 1 in the state against the run.
"I thought the d-line did a nice job shutting down the rush," Arbet said. "I would have to give a lot of game balls out today."
Gavilan running back Kyree Harbin was held to just two yards on 11 carries, while quarterback Bobby Ruiz was sacked five times for negative-43 yards.
Ruiz completed 12-of-24 pass attempts for 127 yards, a touchdown and two interceptions.
Cabrillo sophomore defensive lineman Ty Winn had a game-high two sacks, giving him a team-leading seven for this season.
The Seahawks have 33 total sacks this season and are ranked No. 2 in the state just behind M.P.C., which has 38 sacks.
Sophomore linebacker Chad Abdalla, sophomore defensive lineman Cameron Moore and sophomore linebacker Peyton Mitchell each recorded a sack for Cabrillo.
Mitchell, a Christopher High alumnus, has three sacks this year.
"It was a big win for us because knowing our record and knowing our goals, we want to get to a bowl game so we know we got to win out," Mitchell said.
On the offensive side, the linemen gave sophomore quarterback Devon Daich wasn't sacked once. He completed 19-of-35 pass attempts for 341 yards, three touchdowns and two interceptions.
Daich, a Monte Vista Christian alumnus, connected with sophomore receiver Kameron Pleasant for two touchdowns in the third quarter.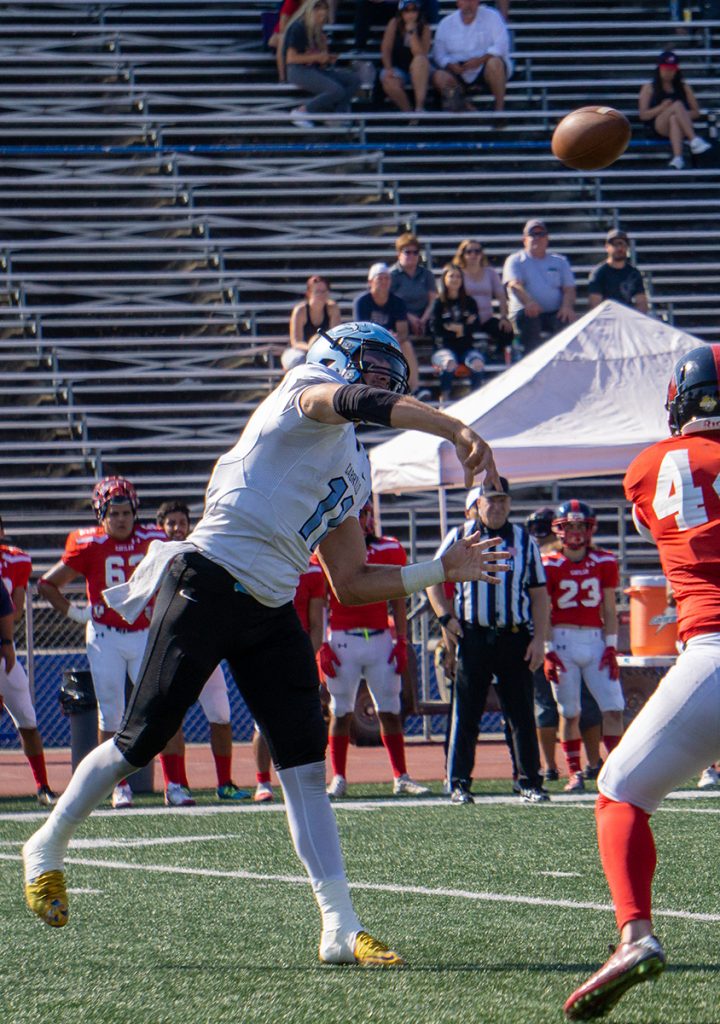 Pleasant finished with 120 yards and two touchdowns on eight receptions.
"Coming out of halftime we picked it up and we were able to come together as a team and deal with that adversity," Pleasant said.
In the fourth quarter, Daich found freshman tight end Karson Kirk on a 20-yard touchdown to extend Cabrillo's lead to 31-10.
Sophomore running back Even Delozier capped off a 10-play, 45-yard drive with a 2-yard touchdown run that put the game away.
Delozier, a Watsonville High alumnus, finished with a game-high 41 yards and a touchdown on nine carries.
The flight to victory wasn't an entirely smooth one, though. The offense turned the ball over three times in the first half—two fumbles and an interception.
Arbet said they talked about overcoming that adversity during halftime and understood they had to work through it to get the win.
The Seahawks have won three straight games since losing to conference rival Reedley on Oct. 5. They have three games left on the schedule, including a battle at home against the conference-leading Lobos on Nov. 16.
"Gavilan's a scrappy football team, they play hard," he said. "You have to play them for four quarters and that's what our team did."
Up next, the Seahawks will host San Jose City College (0-7, 0-4) at Carl Conelly Stadium on Saturday at 1 p.m.