APTOS—Cardboard is a material that nearly everyone has at their disposal. Often used in packaging and shipping, it is usually broken down to recycle or saved to reuse.
But cardboard can also be full of possibilities for artists. This is apparent at "Extraordinary Ordinary," Cabrillo Gallery's first exhibit of the year. Five artists are currently showing their large cardboard-based pieces throughout the gallery.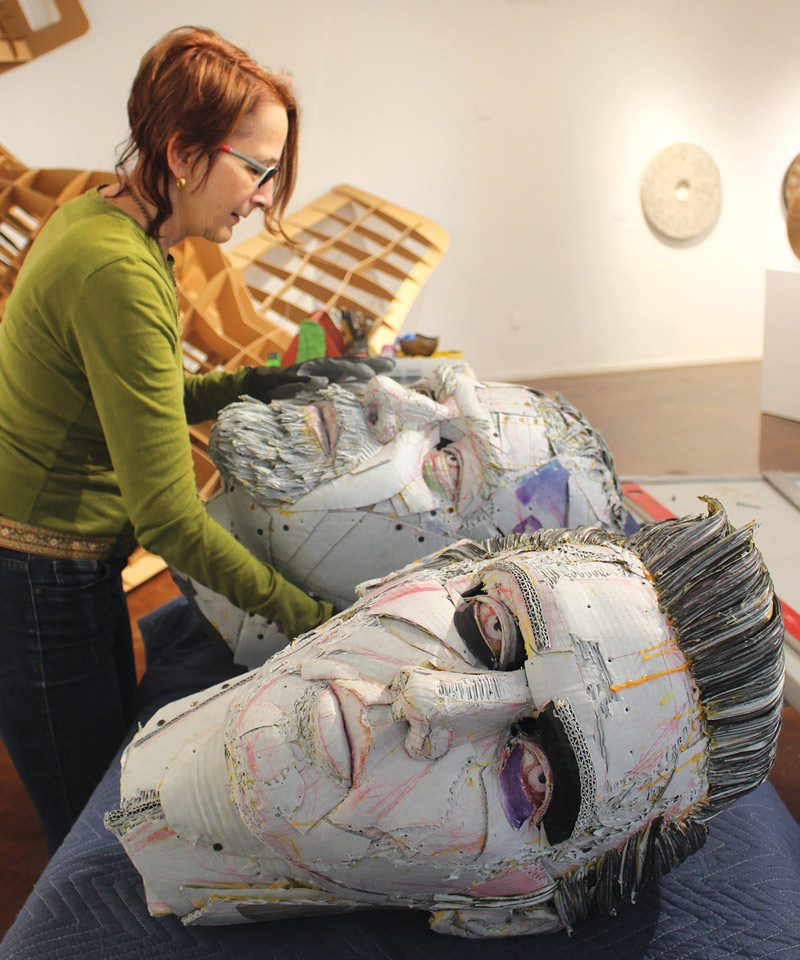 Gallery Director Beverly Rayner said that cardboard art has been on her radar for a while, but that the gallery has never hosted an exhibit solely dedicated to it.
"You can do so many things with [cardboard]," Rayner said. "It's the absolute cheapest material… but can be transformed into some amazing things."
Artists Taro Hattori, Jason Schneider, Ann Weber, Dag Weiser and Scott Fife are featured in "Extraordinary Ordinary," and each has taken a different approach to the medium.
Weiser, who Rayner dubbed a "local cardboard wizard," has installed a piece that takes up an entire section of the gallery, depicting a myriad of creatures such as crows, butterflies and bees, flowers and even skulls sticking out of Thanksgiving turkeys.
Every year for Halloween, Weiser works for months to create such displays—but usually takes them down right after the holiday. This year, they were saved specifically for "Extraordinary Ordinary."
East Bay artist Taro Hattori is showing "Obscenity," a large sculpture depicting a crashed kamikaze airplane. Hattori brought the plane to the gallery in pieces and assembled it in a corner. He also created a (working) harpsichord from cardboard, now on display in the middle of the gallery, attached to a bicycle.
"Walking into the exhibit… It almost feels like you are walking into someone's really weird living room," said Program Coordinator Victoria May. "It is really a world on its own."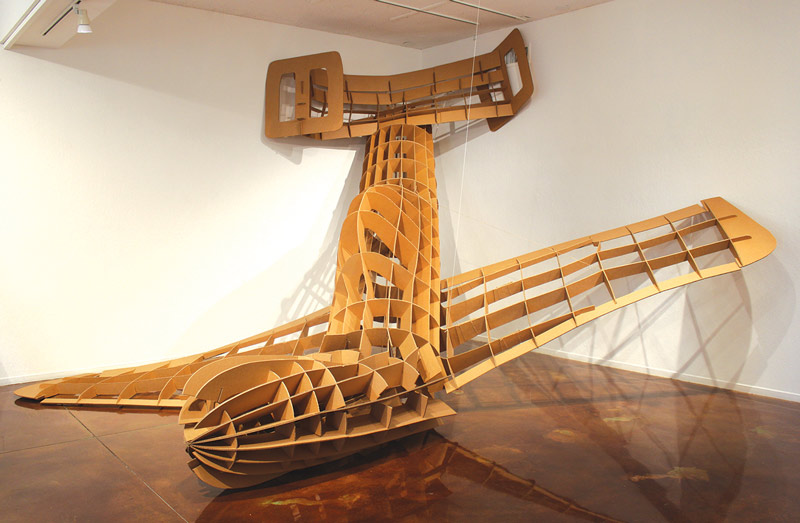 "Extraordinary Ordinary" will run until Feb. 28. The gallery will host an opening reception on Saturday from 4-6 p.m. Hattori and Weiser will be giving artist talks at 5 p.m.
Gallery staff is also organizing interactive activities to be offered the course of the exhibit's run. Rayner said they hope to work with Cabrillo Makerspace and the school's engineering department.
"I think people are excited," Rayner said. "This kind of exhibit is great for art students… to see such incredible art made of such everyday material. It's inspiring."
•
Cabrillo Gallery, in building 1000 at 6500 Soquel Dr., Aptos, is open Monday-Friday from 9 a.m. to 4 p.m., and Monday and Tuesday from 7-9 p.m. It will be closed Feb. 14 and 17. For information visit cabrillo.edu/services/artgallery.