Located on a busy thoroughfare between Aptos and Watsonville, Bamboo Giant Nursery and Gardens (BGNG) could easily be driven past without a second glance.
But the nursery, tucked into the side of a hill in a rural, forested section of Freedom Boulevard, is actually one of the largest displays of timber bamboo in North America. Trails on the property take you through thick rows of bamboo, over stone walkways to waterfalls, decorative archways and fountains.
"It's definitely a hidden gem," said Leah Leichty, BGNG's social media manager and coordinator. "We are a living nursery, where people can also walk through and see the different types actually growing. People often tell us when they visit, 'I had no idea this was all here.'"
A desire to connect more with the community has led BGNG to organize its first-ever Illuminated Bamboo Enchanted Forest Walk-Through. Guests can from now through Dec. 31 stroll through the nursery at night through lighted areas of the grounds, participate in a scavenger hunt, feed the fish in the lily pond, while learning more about bamboo.
Leichty said that the event is the first time that the nursery has ever been open to the public at night.
"We want people to experience something new," she said. "People can come in during the day and that's great, but no one has ever experienced this place in the dark. Especially doing it during this time of year—it makes it a little creepy! If it's breezy, you hear the bamboo snap and creak against each other."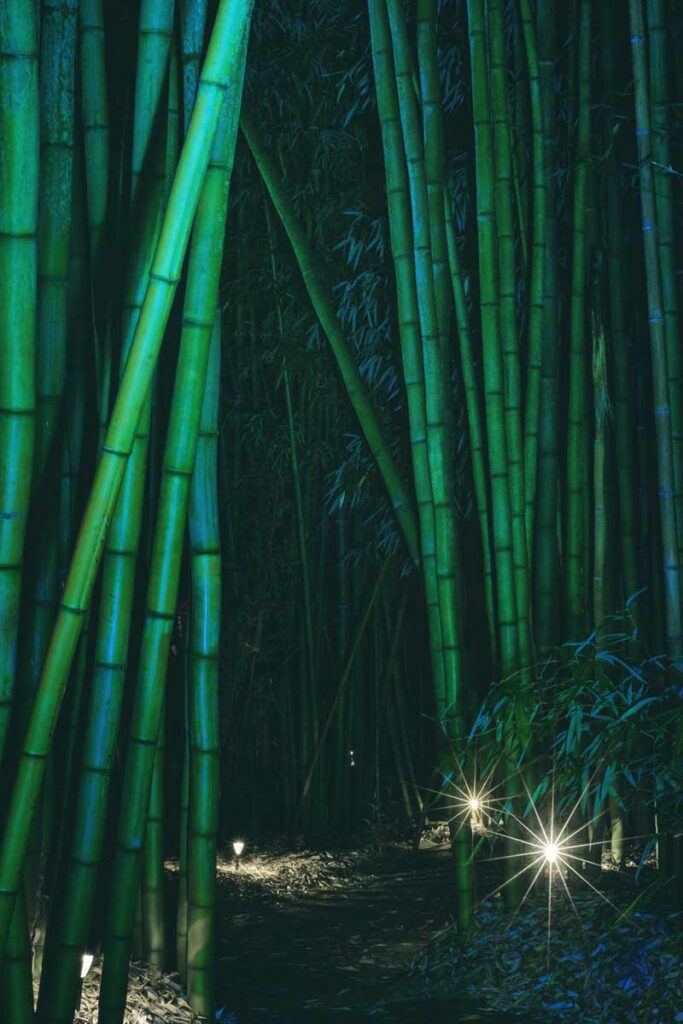 BGNG has been under new ownership since January of this year. Leichty's father, Trevor Medina, took over the business from the previous owner after spending a year and a half as general manager.
"It's been really exciting to do this," Leichty said. "To know that this is ours. We are incredibly blessed and honored for the opportunity. The former owner is a family friend, and we know he had a hard time selling it. But knew he was leaving his baby in good hands. He still loves this place."
Together, the family has kept the business going while adding their own ideas. They have plans to open a second location in Santa Barbara soon, and want to increase the number of local community events. They have hosted its first two weddings this year, and Leichty's mother, photographer Amy Medina has set up at the nursery for the countywide Open Studios Art Tour.
They are looking into bringing in a yoga instructor to teach classes on site. Educational and cultural events are also a possibility, Leichty said; people have already contacted them looking to teach traditional dances and bamboo flute crafting.
"One of our main things is educating the public about bamboo and its cultural aspects," she said.
BGNG services customers from Sacramento to San Diego, offering between 13 and 15 acres of solid forest, featuring 117 unique species of both clumping and running bamboo. This includes bamboo sourced from Africa, Taiwan, South America and Japan.
"The species we have aren't native but they do extremely well here, because we are in a Mediterranean climate," Leichty said. "Bamboo is technically a grass. And it is known as invasive—it can sometimes grow too fast, and is hard to contain."
BGNG offers both installation and removal, and aims to educate people on how to properly care for it. Plenty of customers don't know enough about bamboo before buying it, Leichty added.
"Sometimes people want to buy little one-gallon bamboo pots," she said. "But honestly, it's like taking home a newborn. You literally have to baby it. It takes a lot of work. Usually, the smallest we offer is a 5-gallon pot, because by then they have started maturing."
The Illuminated Bamboo Enchanted Forest Walk-Through kicked off in late September and runs through Dec. 31. Tickets must be ordered in advance, as BGNG is staggering small groups 15 minutes apart. Long pants and close-toed shoes are recommended.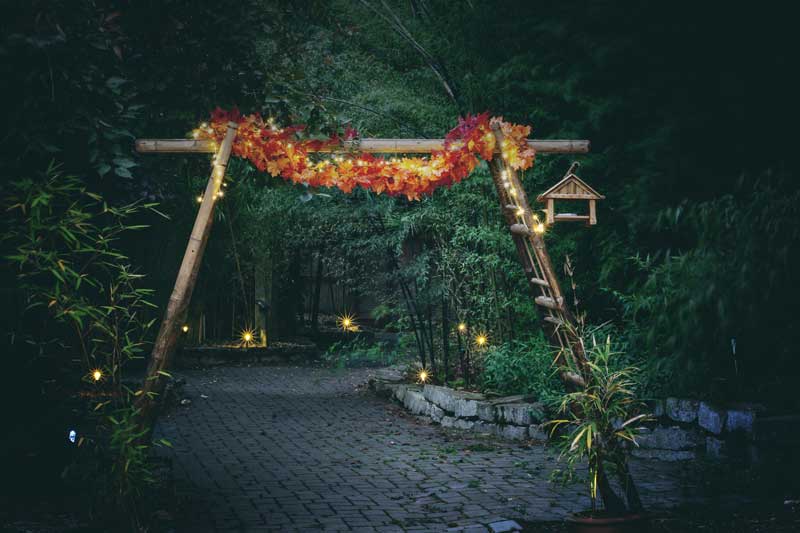 Hand sanitizer and clean, sanitized flashlights will be provided to guests.
"We're cautious of the times," Leichty said. "We are still in a soft pandemic, as I call it, so we're trying to be cognizant of that. Yes, it's outside and open, but we still want people to be safe."
Guests can also visit the grounds for free during regular daytime business hours to browse, take a walk or just enjoy the grounds.
"We want to build up this place's legacy especially in the local community," Leichty said. "Knowing it's been here for 23 years but people just drive past it every day, that's what we want to change. As long as our gate is open and we're here, come in and check us out."
Tickets to the Illuminated Walk-Through are available through Eventbrite. For information about Bamboo Giant Nursery and Gardens visit bamboogiant.com.