SISKIYOU COUNTY—The Siskiyou County Sheriff's Office on Tuesday arrested a man in connection with the shooting death of a former Santa Cruz County man.
Timothy Chase McDonald, 22, of Yreka was arrested for murder and was booked at the Siskiyou County Jail in Yreka. He is being held in Siskiyou County Jail in lieu of $1 million bail.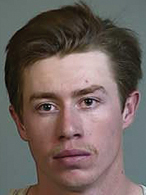 The victim, Spencer Richard Hodgson, 31, was found dead on April 8 on a rural road in the Klamath River area of Siskiyou County. He had long-term ties in the Santa Cruz area, Santa Cruz County Sheriff's spokeswoman Ashley Keehn said.
An autopsy on April 10 confirmed the cause of death as gunshot wounds, and the manner of death as homicide, the Siskiyou County Sheriff's Office stated in a press release.
Hodgson's dog was found alive and was given to family members.
Siskiyou County investigators found Hodgson's missing pickup, with the assistance of a California Highway Patrol helicopter. The truck is considered a source of important evidence in the case, the Siskiyou County Sheriff's Office said.
Detectives from the Siskiyou Unified Major Investigation Team and Siskiyou Interagency Marijuana Investigation Team assisted with the follow-up investigation, but there is no known link between Hodgson's murder and illegal drug activity, authorities said.
A $50,000 reward was being offered for information leading to the arrest and conviction of the suspects responsible for the murder, but it is not clear if the reward offer led to the arrest.
Klamath River is a small, rural community located about 27 miles northwest of Yreka along State Route 96, near the Klamath River.
"Although the arrest of Mr. McDonald is a major development in this case, we still have work to do," Sheriff Jon Lopey said.
Anyone with information is asked to call 530-842-8318 and refer to SCSO Case Number 1-19-0547.