Patrick and Teresa Royan were living in Los Gatos when they first discovered Pleasant Valley, a rural area in Aptos permeated with rolling hills, orchards, vineyards and pastures. The couple had been looking for a place to settle relatively close to the beach yet away from city life.
"We had absolutely no idea this area was here," Patrick Royan said. "It's like a mini Napa Valley, or Sonoma… We were blown away."
In 2017 the Royans purchased 26 acres of the valley, where they now live with their extended family. The property, Pleasant Valley Farms (PV Farms), includes a horse boarding facility, a small vineyard, a compost fertilizer operation and an orchard of established olive trees—which prompted the Royans to venture into making olive oil.
Just a few years later, that homemade oil has won numerous awards, including Gold, Best in Class and Best of Show at the 2021 Central Coast Olive Oil Competition.
"When we won, we were just like, 'Oh, great, that's cool,'" Royan said. "But people told us, 'No—this is a big deal!' A lot of people enter the contest. And our little mom-and-pop operation won."
Added Teresa Royan: "I didn't know what that meant at first. I went online when they posted results… people were reaching out, congratulating us … It was very unexpected."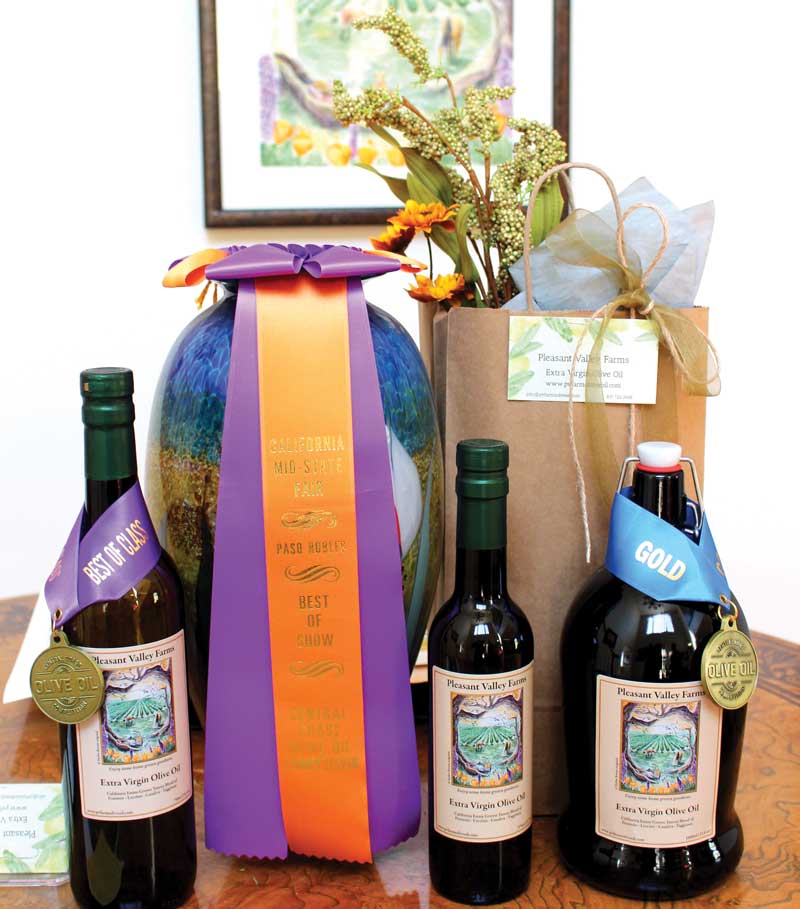 Teresa said she grew up farming and has always enjoyed it, but making olive oil is a new challenge. They are still learning about everything from orchard management to pest control.
"For instance, last year … We harvested too early," she said. "We got nervous about the weather. So [the product] was a bit bitter. This year we waited a bit longer, and we finally got it right."
Added Pat: "We're learning to work with Mother Nature. A lot of farming is realizing that you have a lot less control over everything than you think you do."
Olive trees are hearty and can withstand a lot of weather, Teresa said. But they do need wind, as that is the primary way they are pollinated. When the flowers begin to open, that is a critical stage—you don't want excessive heat, or too much moisture.
"If there is a lot of rain, the trees will take on water," she said. "There will be more water in the olives, which makes it harder to extract the oils."
Pleasant Valley Farms was once an apple orchard, one of many in the area. After that crop was taken out, olive trees were planted in 2004. The orchard now includes five different varieties of olives on about 500 trees. The Royans prune every two years, then harvest by laying tarps or nets around the base of the trees.
Once harvested, the olives only have a window of about 48 hours when they can be pressed and made into extra virgin olive oil. Pleasant Valley Farms sends its harvest to a mill just north of Paso Robles, where they are pressed and partially filtered. Then the product is sent back to Aptos to be filtered further and bottled.
Extra virgin olive oils must be certified by the California Olive Oil Council. For them to certify it, it has to be cold-processed, without any sort of heat or chemicals. The product undergoes a chemical analysis and a number of sensory tests.
Olive oil is one of the healthiest products on the market. According to the Olive Oil Source, many scientific studies have suggested that olive oil helps prevent and treat heart disease, high cholesterol and blood pressure levels, and other conditions.
"It's just a great product," Teresa said, "one of the healthiest things you can add to your diet."
Pleasant Valley Farms offers some unfiltered olive oil, which Teresa says some customers wait for all year. Looking ahead, they are planning to make some blends, including an extra virgin oil infused with lime.
"We have high hopes for a good harvest, with bigger yields," Teresa said. "We want to keep up the quality of our product, learn more every year."
Pleasant Valley Farms Olive OIl is sold at select stores in Santa Cruz County, including Shopper's Corner in Santa Cruz, Seascape Foods, Blossoms Farm Store & Cafe and Corralitos Market. But a bulk of sales are online—orders are shipped all over the country and even a few to Canada.
Click here to view the complete results of the Central Coast Olive Oil Competition.