For decades, Watsonville-based Mexican folklórico group Esperanza del Valle (EDV) has been learning from master dance instructors from Mexico. 
One of these teachers, Daniel del Valle Hernandez, will join Esperanza for its upcoming show, "Homenaje a Veracruz," which is scheduled for Nov. 12 and 13 at the Crocker Theater in Aptos.
Hernandez is the artistic director of the Ballet Folklórico del Puerto de Veracruz de la Universidad Veracruzana. He and assistant instructor Guillermo Hernandez Legunes will perform with the group Nov. 12 and 13.
"When I first met Daniel he was barely learning to dance," said Janet Johns, co-founder and executive director for EDV. "And now we are working with him. It's been a wonderful experience."
"Homenaje a Veracruz" will highlight dance traditions from the regions of the Huasteca, Totonaca and Sotavento. This includes danzas, sones, huapangos and bailes de salón and EDV's original choreodrama, Macaria, which fuses dance and drama through traditional and cultural themes in celebration of Día de los Muertos.
Live music by Cuatro con Tres will also be part of the performance.
"We're really excited," Johns said. "We've presented parts of this show over the years, but it's not the same as last year at all. It's a big show to put together—I'm working with 25 dancers. The final dance will have 24 of those dancers on stage at the same time."
This year's show will bring in social dances influenced by Afro-Cuban culture, as well as a dance celebrating Carnival.
"Veracruz has a Carnival before lent every year, like Brazil and New Orleans," Johns said. "They have that culture, it's part of their folklore. A lot of people don't know that."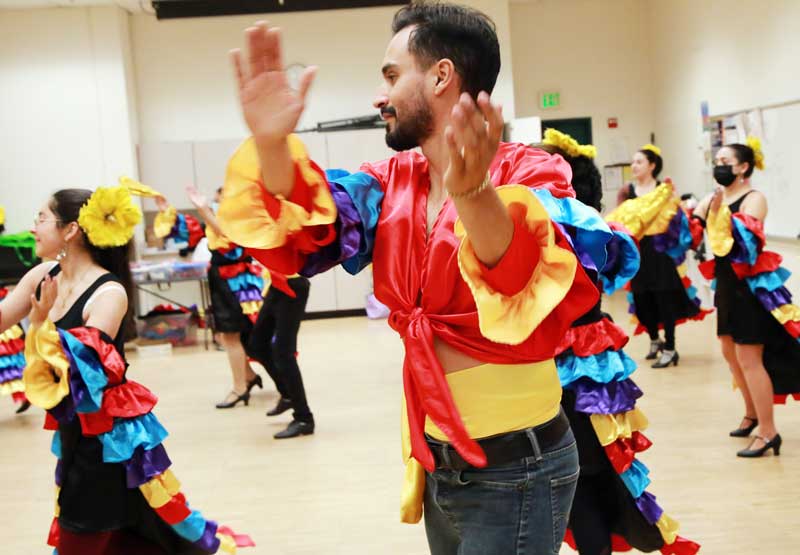 In addition, EDV will present huapangos from the small Totonaca indigenous community of Mecatlán. The dances have only been presented outside of the community in Mexico since last year, and EDV's performance will be the first time they are performed in the U.S. At a conference last year in Mexico, Johns made contact with master instructor Jonathan Alejandro Bautista Silva, who had been researching the dances.
"When you're a folklórico dancer, you never finish learning," Johns said. "I've been directing this company for decades, but I'm always learning. I'm amazed at how much there is out there."
A group in Mecatlán are currently making outfits for EDV's performance.
"The outfits are very indigenous," Johns said. "We are so honored to have the support of their community, and to bring their traditions to a new audience."
Johns said she hopes the show will introduce people to the diversity of folklorico.
"It's really important to not put Mexican folklórico in a box," she said. "It's not always mariachi, big skirts and ribbons. Mexico is such an amazing, diverse place with so much culture. Every state has so much to offer."
"Homenaje a Veracruz" will be held at the Crocker Theater, 6500 Lower Perimeter Road in Aptos, on Nov. 12 at 8pm and Nov. 13 at 3pm. Click here for information and to preorder tickets.